The Golf Corner is a monthly golf article/tip for our friends and clients to help you play better golf.
That being said, let's get to it!
March's Golf Tip of the Month
It's all in your HEAD
In this month's tip, we are going to discuss how your head and your slice go hand in hand.  When I worked with Rick McCord (who just passed on Feb. 27, 2021) & Dick Farley and taught for Swing's the Thing Golf Schools back in the 90's, we always joked that the names and faces of the students changed, but the swings stayed the same.  That's because 80% of all golfers are slicers of the golf ball.  So, we spent a lot of time working on grips and posture and trying to fix slices!
Have you ever watched a slicer as they approach their tee shot on a particular hole?  They start to look farther and farther down the left side of the fairway and before you know it their head is turned to the left, too. Our heads play tricks on us and our subconscious tries to reassure us that this is going to make our ball go in the direction we want it to go. 
This shifting of your eyeline more and more to the left and the subtle compensation of tilting your head to the left is a huge problem.  Although this set-up feels really comfortable to the slicer, it gets your spine tilting in the wrong direction at address.  If you've ever taken a lesson from me, you probably have gotten my schpeel on set-up and the two tilts to posture.  One tilt from the hips and a slight second tilt, where your whole spine tilts slightly to the right.  This gets your head and body set-up behind the ball at address. 
When your eyes and head inadvertently look left, then your shoulders align to the left, too.  This causes your swing to come "over the top".  Most slicers need to swing more "in-to-out" on a shallower downswing plane.  You can't do that when your head is pointing left. 
It's super hard to convince a slicer that they need to start looking down the right side of the fairway in the exact place they fear their ball is going to go, to fix their slice.  Slicers… trust me this is going to work and change your whole world.  Look to the right, tilt your head and spine a little to the right, and feel you are set-up behind the ball at address.  (Your subconscious is going to want to turn your head, feet, and body left but don't give in.)  You are going to feel like you are aimed way too far to the right, but you're not.  This set-up is going to help you turn in the direction you need to shallow out your downswing and swing more in-to-out.
What you feel and what is real are rarely the same in golf.  Remember it's all in your head!  Have your local PGA or LPGA pro help you with this if you're still struggling.  It's early in the season and you have a long time to get this right.  You'll be hitting high soft draws before you know it.  I hope this helps and you start to hit more fairways and greens. 
***Real Estate Tip of the Month—
Our market continues to have a shortage of inventory.  If you have any thoughts of selling your home or buying a home, please call us! In this fast-paced market, you need experienced agents that know and understand how to navigate and negotiate! 
***Selling Side—Sellers with move-in ready homes are not going to have any trouble finding a Buyer.  Bidding wars are happening daily and homes are going under contract one or two days after coming on the market.  Pricing your home accurately to bring in the most offers is key.  You need an experienced agent to help you evaluate all the offers you will receive.  The highest price offer is not always the best offer. 
***Buying Side—There is so much competition right now for the same house.  If you are not on top of it for your client, you will not even have a chance to get a showing scheduled, because showings are filling up immediately and there are only so many hours in the day.  Unless you are paying cash, your offer needs to catch the Sellers attention and stand out.  You need an experienced agent in our fast-paced market that understands how to position your offer to be more competitive. 
We hope you have enjoyed this month's tips and get some benefit from them. Please think of our team, The Vanessa Creech Team, if you hear of anyone looking to make a change this year, whether buying or selling real estate.  Call, text, or email Lisa at (404)384-2222 or lisa.chirichetti@cbrealty.com      
Scroll Down to See Archived Tips!!!
February 2021
Bunkers, Bunkers, Bunkers... Did you know the shot most played to get your ball out of a greenside bunker is called the splash or blast shot?  This is when you intentionally strike the sand ½ inch to an inch behind the ball and your wedge splashes or blasts down into the sand and the ball floats out on a pillow of sand.  The ball comes out high and soft, goes only a few yards with a full swing with a lot of spin, sits on a dime, easy tap in to save par. 
The fairway bunker shot is a little different.  If the club were to hit the sand behind the ball in a fairway bunker, the ball would only go a few yards, leaving you with another full shot into the green.  So, you will read, hear, and be told to "pick it clean out of the fairway bunker".  It all depends on your interpretation of what "picking it clean" means.  Personally, when I visualize picking a shot clean, I think I just hit my shot thin and it is either going to come up short or be a screamer and go through the green. 
If you hit a solid approach shot off the fairway onto the green and you say that was a great shot, I really picked it clean.  Then, you do want to execute fairway bunker shots the same way.   If you feel a solid approach shot from the fairway is more of a hit down, ball then divot kind of shot.  Then, that is the way to execute your shot from the fairway bunker, too.  The latter is my preference.
Consider the club needed to get you from the fairway bunker to the green.  Depending on the proximity of your ball in the bunker, does the club needed have enough loft to clear the lip?  Is the sand firm and your footing solid to take a full swing without fear of slipping?  If so, execute your fairway bunker shot as you would any approach shot from the fairway. The ball should go the normal distance for the club you selected.
If the sand is fluffy and you sink down a little lower than the surface of the sand when taking your stance, then you will need to grip down on the club.  Gripping down will keep you from digging the club too deep like a greenside bunker shot. If you grip down and shorten the club, you may need to change to a longer club to get to the green.  Be sure your new club has enough loft to still clear the lip.  If the sand does not feel very firm and you fear you will slip, then keep your lower body more quiet. Make more of an arm swing.  The ball will not fly as far, and you will need to go up one or two more clubs.
With the grass in the fairways dormant, you may find your ball running a little farther and getting in those fairway bunkers you can usually avoid.  Try these tips the next time you find your ball in the fairway bunker and I know you will have great success.     
***Real Estate Tip of the Month— Closing Costs…Should you or should you not ask for them when buying a home?
Traditionally closing costs are paid by the Buyer.  In addition to your down payment, you are going to pay roughly 3% of the loan amount toward closing costs, when buying a home with a mortgage in Georgia.  These are lender fees you pay for your appraisal, credit check, title search, and other local legal fees associated with closing. 
Closing Costs are something you really need to discuss with your realtor to weigh all your options before making an offer.  Especially, because of the strong Seller's Market we currently find ourselves in. 
Please think of me and our team if you hear of anyone looking to make a change this year, whether buying or selling real estate.  Call, text, or email Lisa at (404)384-2222 or lisa.chirichetti@cbrealty.com      
Scroll Down to See Archived Tips!!!
January 2021
This Month's Tips are specifically designed for my golf and real estate friends that are Seniors! Imagine that you've played golf for many years, possibly your whole life, and at some point, things take a turn.  Golf is at times a very frustrating game in the best circumstances, but add to that equation loss of strength, decreased flexibility, shaky balance, worsening vision, and arthritis in joints.  Now, you have a whole new kind of challenging beast.  Something to look forward to, right?  My Dad would say, Golden Years my behind!
Seniors love to admire young teenagers hitting balls on the range.  Look at that speed, power, and oh to turn like that, with that amazing flexibility.  Well, we can all improve our personal flexibility and strength through stretching and weight training.  However, the days of swinging like a pretzel are long past.  So, let's forget about trying to make a huge backswing.  Understand your personal limitations and strengths.  Seniors, focus on shortening your backswing and focus on making a better forward swing.  The shorter swing will be easier to time and give you an opportunity to have more speed at the ball where you want it.  Try opening your left foot to say 30 degrees (for a right hander), this will help you better get through the ball. Last month I shared a follow-through drill. Go back and check-it out if you missed it.  The Hand Slap drill!  Less back and more through.  Trust me you'll be happy with the results.  
If you are experiencing pain gripping the club due to arthritis in your fingers, try getting slightly larger grips on your clubs. Go from a std. grip to a mid size grip.  Discuss with your local PGA or LPGA pro.  They can help you with what size would be best. This will allow you to grip the club without having to squeeze your hands closed as far and take pressure off your fingers.  Hopefully, resulting in less discomfort and pain when swinging the club and hitting the ball.  
If you notice that you are losing power and strength, there's a good chance that you might not get to as many greens in regulation.  It might be time to consider moving up to the next set of tees on the course.  A shorter course will be more fun to play and give you more opportunities to putt for birdies and pars.  Putting for birdies and pars is always more fun that putting for double bogeys. 
Short game for Seniors, If you're missing more greens you will certainly find yourself chipping more.  Try opting for the pitch and run over the high lob pitch.  Keep your lower body and legs quieter.  Have the length of your swing back and through equal, like a pendulum.  Do this and your good shots will far out way your bad.  As for putting, focus on good posture and be sure the ball is positioned where your eyes are over the ball.  Sometimes, just those two things will allow you to put a better roll on the ball and make more putts. 
Please give these few tips a try.  Here's a hint…they aren't only great tips for Seniors!  Hope this is a start to helping all of you play a little better golf in 2021.  Let me know if you have a golf question or tip, you'd like me to share.
Real Estate Tip of the Month-
This month's real estate tip is also with Seniors in mind.  Imagine living in your home for many years and raising a family and acquiring a lifetime of possessions.  Now, imagine that your circumstances have changed, and you can no longer live in your home.  For some it's a breeze and they welcome the new chapter of life they are about to be embark on.  For others, it can be a very daunting, emotional, scary, and even depressing time, especially if there's been the loss of a loved one. It can be very overwhelming.  Did you know I have my Seniors Real Estate Specialist designation?  Sometimes it takes working with a Realtor with a little more patience, empathy, and knowledge of resources to help make the sale and move less stressful. If you know of someone looking to make a change this year, whether buying or selling, I hope you will think of me and share my information.  I promise to take great care of them every step of the way.  Call, Text, or Email me at Lisa.Chirichetti@CBRealty.com and (404)384-2222.
December 2020
I was told by one of my teachers that if you had a good set-up and a good balanced finish, well the other stuff in the middle would fall into place and you didn't need to worry about that part too much. Of course, I had already been playing golf for quite some time when I was told this.  Golf can be very frustrating. Especially when you watch someone try so hard working on their set-up & trying to make a good backswing while focusing so hard on hitting that little white ball, and then huffing and puffing at a less than spectacular outcome of their shot. The follow through is so overlooked and it is so important when it comes to hitting your ball to your target.  You better believe your finish is directly related to how good of a shot you hit.  Getting your hands, arms, legs, hips and shoulders all through the swing together gives you the ability to hit the shot the best you can and to start developing consistency. Good set-up, some good stuff in the middle, but no finish equates to bad words under your breath and shaking your head a lot. Don't forget your swing has two sides and you need to finish.
Spend a few minutes on the real chilly winter days doing this forward swing drill and your golf shots will improve without ever going out into the cold and hitting balls.  I guarantee it.  This was one of my favorite drills that I'd share with my students, that never seemed to fail.  You can do it anywhere and I'm going to share the version of it that allows you to do it by yourself. 
***The Hand Slap Drill— (for a right-handed golfer) Get into your golfing posture. Extend or stretch out your left arm and point it at your target.  Take your right hand and point your palm up to the sky.  Bend your right elbow and take your right hand up like you are making your backswing. Then make a forward swing motion and connect or slap your right hand to your left.  You'll have to turn your body through when doing this drill or your right hand won't meet the left.  So, turn and extend your right arm just like in a real golf shot! Try making this move smooth, balanced, and effortless like a well-oiled machine. Give this tip a try and you are sure to reduce your handicap in 2021!     
***December's Real Estate Tip of the Month—
Here are some key real estate terms to know when it comes to the Home Buying Process:
Appraisal- A professional analysis used to estimate the value of a home.
Closing Costs- The fees required to complete the real estate transaction.  Paid at Closing, they include points, taxes, title insurance, financing costs, and items that must be prepaid or escrowed.
Credit Score- A number ranging from 300-850 that's based on an analysis of your credit history. 
Down Payments- Down Payments are typically between 3-20% of the purchase price of the home. Some 0% down programs are also available. 
Mortgage Rate- The interest rate you pay when borrowing money to buy a home.
Pre-Approval Letter- A letter from a lender indicating you qualify for a mortgage of a specific amount. 
***If you have any questions in regards to buying a home or would like to receive a copy of The Vanessa Creech Team's "The Ultimate Home Buyer's Guide", let me know.  It's a great resource If you're considering buying a new home in 2021 and maybe haven't purchased a home in a few years!  Let's chat...Call or Text Lisa at (404)384-2222
November 2020
The Masters in November, and no azaleas or patrons six rows deep around every green and tee box. The world around us is changing and we better keep up or we will be left behind.  This goes for your golf game as well, as we enter the fall/winter golf season.  You are going to need a new playing strategy if you want to master the change of weather.  Have you ever noticed how your handicaps go up in the winter? 
When the chilly nights and frosty mornings cause the lush green turf to go dormant, your handicap goes up.  That nice fluffy cushion that used to be under your golf ball disappears and the lies become tighter. Tour players and great ball strikers love tighter lies because they can spin the ball more.  Most of us fear them. The leading edge of our irons and wedges tend to dig into the ground more, causing us to miss more fat shots and come up short on your approaches.  Then you are left with that next scary shot where the same thing wants to happen again.  Therefore, your handicap goes up in the winter! 
***The tip for those fairway shots into the green is to play the ball a little back in your stance.  In addition to the ball a 1/2 inch or so further back, try gripping down a 1/4 - 1/2 inch on your club.  Doing this will reduce the number of fat shots.  If the lie is wet and tight, take an extra club. 
When we have a nice lie in the spring and summer where our golf ball sits up on a cushion of grass, we hit a nice lofted pitch onto the green and allow the ball to roll nice and slow toward the hole.  In the winter, that shot becomes a lot more difficult off the tight and often wet (sometimes muddy) pressed lie beneath our ball.  For a good player, it takes a lot of hard work and practice to feel a sense of confidence in their short game.  It takes extraordinarily little to shatter that confidence and make you gun shy over a golf shot.  Hit a few fat pitches around the green or blade a few shots 20-30 yards over the green and see for yourself.  Your main objective is to get your ball on the green.  Here are a couple tips that will help--    
***One tip for off the green is to putt when you can putt.  Pull out the Texas Wedge.  That means you putt from the fairway onto the green, putt where you would normally chip when off the green and putt up and out of swells around the green.  You basically use your putter from most places you would normally consider chipping or pitching from in the summer. 
***Another option around the green is to use your hybrid like a putter.  Set-up to your hybrid like you would your putter, play the ball toward the back of your stance, grip down (even below the grip of the club onto the shaft if you need to) on your club, and make your normal putting motion.  The ball will roll easily onto the green.  This may take a little practice to get a feel for the speed. 
***Real Estate Tip of the Month— This is a great article from "Keeping Current Matters" on the current state of the real estate market I wanted to share with you that was written right before the election.  
4 Reasons Why the Election Won't Dampen the Housing Market
Tomorrow, Americans will decide our President for the next four years. That decision will have a major impact on many aspects of life in this country, but the residential real estate market will not be one of them.
Analysts will try to measure the impact feasible changes in regulations might have on housing, the effect of a possible first-time buyer program, and any number of other situations based on who wins. The housing market, however, will remain strong for four reasons:
Demand Is Strongamong Millennials
The nation's largest generation began entering the housing market last year as they reached the age to marry and have children - two key drivers of homeownership. As the Wall Street Journal recently reported:
"Millennials, long viewed as perennial home renters who were reluctant or unable to buy, are now emerging as a driving force in the U.S. housing market's recent recovery."
Mortgage Rates Are Historically Low
All-time low interest rates are also driving demand across all generations. Strong demand created by this rate drop has countered other economic disruptions (e.g., pandemic, recession, record unemployment).
In addition, Freddie Mac just forecasted mortgage rates to remain low through next year:
"One of the main drivers of the strong housing recovery is historically low mortgage interest rates…Given weakness in the broader economy, the Federal Reserve's signal that its policy rate will remain low until inflation picks up, and no signs of inflation, we forecast mortgage rates to remain flat over the next year. From the third quarter of 2020 through the end of 2021, we forecast mortgage rates to remain unchanged at 3%."
Prices Continue to Appreciate
The continued lack of supply of existing homes for sale coupled with the surge in buyer demand has experts forecasting strong price appreciation over the next twelve months.
History Says So
Though it's true that the market slows slightly in November when it's a Presidential election year, the pace returns quickly. Here's an explanation as to why from the Homebuilding Industry Report by BTIG:
"This may indicate that potential homebuyers may become more cautious in the face of national election uncertainty. This caution is temporary, and ultimately results in deferred sales, as the economy, jobs, interest rates and consumer confidence all have far more meaningful roles in the home purchase decision than a Presidential election result in the months that follow."
Ali Wolf, Chief Economist for Meyers Research, also notes:
"History suggests that the slowdown is largely concentrated in the month of November. In fact, the year after a presidential election is the best of the four-year cycle. This suggests that demand for new housing is not lost because of election uncertainty, rather it gets pushed out to the following year as long as the economy stays on track."
Bottom Line
There's no doubt this is one of the most contentious presidential elections in our nation's history. The outcome will have a major impact on many sectors of the economy. However, as Matthew Speakman, an economist at Zillow, explained last week:
"While the path of the overall economy is likely to be most directly dictated by coronavirus-related and political developments in the coming months, recent trends suggest that the housing market – which has basically withstood every pandemic-related challenge to this point – will continue its strong momentum in the months to come."
October 2020
I've said it before and I'll keep saying it...The ONLY way you will ever shoot lower scores in golf is to learn how to chip the ball on the green.  Whenever you miss the green, you want to make sure that the next club in your hand after your chip is a putter!  This will certainly help you achieve lower scores.
The magic "lower-case y" is your key to more successful chip shots.  This is so easy that a child can do it.  Yes, this is exactly how we have taught children to chip in the many, many junior camps and clinics we have taught over the years.  So often parents would tell us, my kid chips better than I do.  It is because of the magic "y"!
If you are sick of sculling the ball over the green or coming up short on your chips, then give this a try.  Set-up with a little more weight on your front foot, left foot for a right-hand golfer.  Place the ball in the center of your stance or slightly back of center. Set your hands a little forward so that your arms and the clubshaft have the look of a lower-case "y".  Move the "y" back and thru without allowing the tail of your "y" to breakdown.  Swing your arms and shoulders (swing your "y") and keep the "y" moving.  If you maintain the "y", you will strike the ball first and trap it between the club and ground.  Once you get the feel for solid contact you will get your chips closer and start lowering your score.  I guarantee it!  Give it a try and hope this helps.
Real Estate Tip of The Month- 
Should You Buy a Retirement Home Sooner Rather than Later?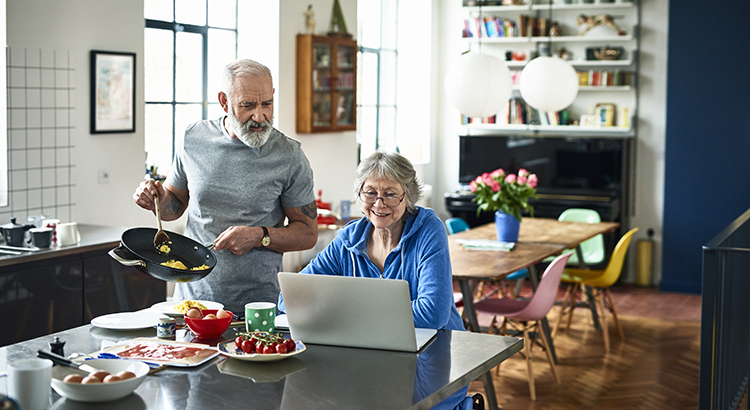 Every day in the U.S., roughly 10,000 people turn 65. Prior to the health crisis that swept the nation in 2020, most people had to wait until they retired to make a move to the beach, the golf course, or the senior living community they were looking to settle into for their later years in life. This year, however, the game changed.
Many of today's workers who are nearing the end of their professional careers, but maybe aren't quite ready to retire, have a new choice to make: should I move before I retire? If the sand and sun are calling your name and you have the opportunity to work remotely for the foreseeable future, now may be a great time to purchase that beach bungalow you've always dreamed of or the single-story home in the sprawling countryside that might be a little further out of town. Whether it's a second home or a future retirement home, spending the next few years in a place that truly makes you smile every day might be the best way to round out a long and meaningful career.
Lawrence Yun, Chief Economist at the National Association of Realtors (NAR), explains:
"The pandemic was unexpected, working from home was unexpected, but nonetheless many companies realized that workers can be just as productive working from home…We may begin to see a boost in people buying retirement homes before their retirement."
According to the 20th Annual Transamerica Retirement Survey, 3 out of 4 retirees (75%) own their homes, and only 23% have mortgage debt (including any equity loans or lines of credit). Since entering retirement, almost 4 in 10 retirees (38%) have moved into a new home. They're making a profit by selling their current homes in today's low inventory market and using their equity to purchase their future retirement homes. It's a win-win.
Why These Homeowners Are Making Moves Now
The health crisis this year made us all more aware of the importance of our family and friends, and many of us have not seen our extended families since the pandemic started. It's no surprise, therefore, to see in the same report that 32% of those surveyed cited the top reason they're making a move is that they want to be closer to family and friends (See graph below):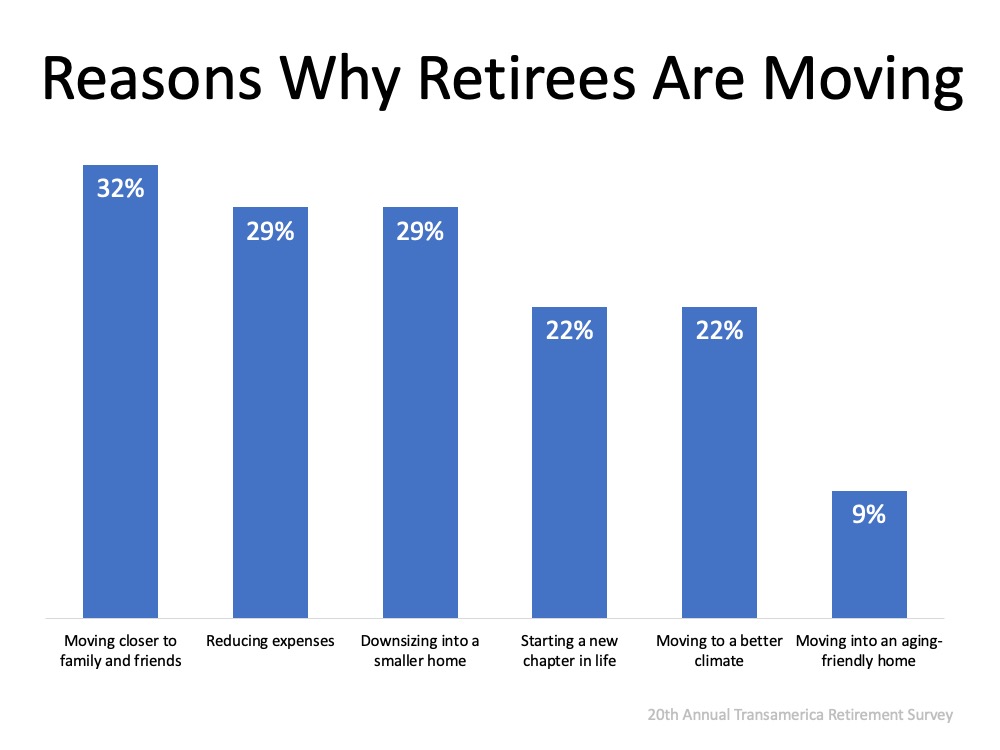 The survey also revealed that 73% percent of retirees currently live in single-family homes. With the overall number of homes for sale today hitting a historic low, and with the buyer demand for single-family homes skyrocketing, there's never been a more ideal time to sell a single-family home and make a move toward retirement. Today's market has the perfect combination of driving forces to make selling optimal, especially while buyers are looking to take advantage of low interest rates.
If you're one of the 73% of retirees with a single-family home and want to move closer to your family, now is the time to put your house on the market. With the pace homes are selling today, you could essentially wrap up your move – start to finish – before the holidays.
Bottom Line 
Whether you're looking to fully retire or to buy a second home with the intent to use it as your retirement home in the future, the 2020 fall housing market may very well work in your favor. Let's connect today to discuss your options in our local market.
September 2020
Writing these monthly golf tips and sharing them with our friends and clients, is something I've really enjoyed. I began this little project in 2018, and it was my way to stay connected to golf while pursuing my full-time career in real estate.  In recent, I've missed writing a couple of months due to personal family matters.  Some of you know that my Father recently died from Pancreatic Cancer, a brutal illness I wouldn't wish for anyone.  I was fortunate to be able to spend most of the past two months with he and my Mom.  I am especially grateful to Vanessa Creech for "wearing all the hats" while I've been away, which gave me the opportunity to spend time with my Father. 
My Father introduced me to the game of golf.  It was "Our" thing.  He and I played many weekend rounds of golf together when I was a kid.  He was my #1 fan and my #1 critic.  My Dad was athletic and competitive, but knew he was not a good golfer.  Usually, he taught me how to play sports, but when it came to golf, he was smart enough to purchase us each a package of beginner lessons with our local PGA pro!  His goal for himself was always to break "100".  His goal for me was to break "Par" and he bought me a necklace with a woman golfer medallion and "Break Par" was inscribed on the back.
This month let's take a look at "The Slice" and how to get rid of one:
My Dad's swing fault was the same for as long as I can remember.  His grip was weak and tight, and he pulled across the ball which produced a weak slice.  It would take me two minutes (okay, maybe 10 minutes) to "cure" him. We'd fix his grip, get him releasing and squaring the clubface, and his ball would fly straighter. Want to fix a slice? You will need to fix your clubface, first!!!
1.Grip- put your palms and hands together, like you're praying in front of you. Your thumbs are now at 12 o'clock on the face of a clock.  Keep your hands in the praying position and rotate both hands so that your thumbs are pointing to the 2 on the face of the clock.  Practice gripping your club with your thumbs rotated to the 2 o'clock position.  This is a neutral grip position and will make it much easier to square the clubface.    
2.Rotate the Clubface- if your grip is correct and your grip pressure and forearms are relaxed enough, (keep your grip and arm tension lighter versus tighter) your club will rotate through the bottom of your swing.  Allow the toe of the clubface to rotate past the heel and to turn over coming through to stop your slice.
3.Swing your club toward your target- if your ball is slicing and curving right to left away from your target, you'll start to compensate and try to pull the ball back to the left toward your target.  This cutting across the ball and pulling the club across your body will make the ball slice even more.  It's hard to swing more to the right and not across your body when you know your ball tends to fly too far to the right.  That's why we fix the clubface first.  After fixing your clubface, you'll be able to swing the club more toward the target on the way down and through.  This will feel like you're swinging out to right field on a baseball field.  The ball won't fly to the right, though.  It will fly to your target!
Try these three pointers and I know you can begin to "cure" your slice. I say begin to cure your slice, because as I mentioned this was the swing fault of my Father for as long as I can remember. Repetition is the key to creating a new habit.  60 repetitions a day for 30 days.  Most people don't make time to make a habit permanent. Could you stick to gripping a golf club the correct way for 60 repetitions for 30 consecutive days, if you needed to change your grip?  Think about it! If you're still slicing, go see your local PGA or LPGA golf pro for help.
Real Estate Tip of the Month:
This is all anyone can talk about. Home has a whole new meaning today!
July 2020
Short Game Distance Control--
The golf courses are in primo condition.  The grass in the fairways is green and lush and the putting greens are holding and rolling the best they will all year.  Temps in Georgia are now in the 90's, and it's too hot to stand on the range hitting balls for long.  Wear your sunscreen and hat and get over to the Short Game area.  Your scores will drop, and you won't exhaust yourself in the heat as much as if you were spending that time on the driving range. 
Let's spend our time working on Short Game Distance Control.  Speed, pace, distance!  Speed, pace, distance!  I believe that once you've elevated yourself out of the Beginner Golfer category, this is where your precious practice time will reap the most rewards throughout the rest of your golf life.  Here are two super easy drills that will help lower your score.
Improve Chipping Distance Control with The Hand Toss Drill-
Take a ball in your dominate throwing hand and make a low toss (say the height of your chip shots).  Try to land the ball in the spot you think you need, to get it to land and roll to an intended target.  What happened?  If the ball landed and rolled too fast and rolled too far, then you will need to make a correction.  Toss the ball slower and softer and see how your results changed.  If the ball still went too far, try landing the ball shorter and see what happens.  Once you get a feel for the correct landing spot and the correct speed, take your favorite chipping club and re-create the shot you perfected with your hand toss!
Improve Putting Distance Control with The Fringe Drill-
Find a cup that's cut about 6-9 ft. from the fringe of the green.  If they are currently not using cups at your course, pick a spot the same distance to putt to by sticking a few tees in the green as your target.  Drop 5 or 6 balls along the fringe about 3 ft. apart.  Start with the closest ball and work your way to the farthest ball.  Putt the balls to the target.  What length of stroke and what speed of stroke is required to get the ball to your target?  Focus on speed rather than trying to make the putt.  Go thru and do it a second time.  If you want to improve your distance control in putting, you will first need to get a feel for the speed of the greens.  Once you feel you have a feel for the speed of the greens, take two distances and practice putting back and forth.  Put a tee five paces or roughly 15ft. from your starting point and another tee eight paces or roughly 24ft., putt back and forth and mix it up to perfect your distance control.      
***Go Back and look at last July's Golf Tip. It featured Fun Putting Games to play with friends that will surely help you spend more time practicing and improving your putting.
Real Estate Tip of the Month:
Sellers & Buyers are you aware that interest rates are at an all time historic low?  Experienced Lenders who have been in the business a long time are saying they can't imagine that rates can ever go lower than they are right now.  What's that mean for you?  For Sellers that means Buyers are out and they are  shopping in a real estate market where inventory is very low.  It's a great time to be a Seller!  For Buyers you can afford to purchase a more expensive and updated home than possibly before, and keep your mortgage payments lower and/or payoff your mortgage sooner.  Want to have a real estate conversation?  Call me today at (404)384-2222.
May 2020
Did anyone have a chance to watch TaylorMade's Driving Relief Skins Game Match between the teams of Rory McIlroy & Dustin Johnson and Rickie Fowler & Matthew Wolff on Sunday afternoon?  This little fun match of golf competed for a $3,000,000.00 skins money purse, benefiting the American Nurses Foundation and the CDC Foundation's Covid-19 Response Fund charities.  Nice Job Guys!
Click the Link below: Trust me, you'll enjoy watching Rory Flub his shot!
Okay, you know that you love when the pro's screw up!  Then, the best is when the announcer tries to cover it up by saying something about the rough.  Even the best in the world hit occasional bad shots.  Let's discuss what went wrong with Rory's chip shot.  Rory had a choice of what type of shot he was going to play.  He could of either chose to set-up for a normal/basic chip shot with his ball back in his stance and more weight on his left side(and he did), or he could of elected to play the shot more like an uphill lie where he played the ball a little more toward the front and balance his weight on his back foot with his shoulders paralleling the slope(he did not). 
Rory must not have felt that the slope was concerning enough to set-up for the uphill lie and elected to play the basic chip.  Rory leaned a little too much into the slope and stuck his club in the face of the hill, like many of us have.  Rory would typically pull this shot off blind folded 99 out of 100 times.  However, this time he did not give the slope enough consideration.  In hindsight, Rory would have probably moved the ball a little up in his stance and angled his shoulders a little more parallel to the slope.  That way his club could have swung with the slope instead of sticking it into the hill.  Lucky for Rory, his partner DJ had his back! 
There is never just one way to play any shot.  You always have multiple options, and the more experienced you are the more you realize your options.  The key is to be decisive and commit to "the" shot you feel you can pull off seven out of ten times.  Play the percentages, know your strengths, and go with the shot you have the most confidence in.  Many of us have been known to miss a green or two and to have this exact shot round after round.  Hope this little tip helps you, and I know you will play better golf if you think about it the next time you play!          
***May's Real Estate Tip of the Month—
The current pandemic has many people concerned about the value of their homes, especially those considering selling in the near future.  This pandemic has caused a financial crisis, not a housing crisis.  Please contact us to arrange a face to face virtual meeting to discuss the value of your home.  It's so exciting to be able to talk to a client over the computer while we are practicing social distancing!  Just give me a call.  Lisa (404)384-2222 
April 2020
Crisp Iron Shots
If you are not striking your iron shots with crisp contact, here's a thought that just might help you become a better iron player! 
We all know that in order to generate power in our swing, it's important to make a good shoulder turn. I ask my right-handed golfers (that are flexible enough to do this) to feel like they get their left shoulder tuned behind the golf ball on the backswing. Turning in this manner can tend to get you moving off the ball on your backswing, which a little move off the ball is okay as long as you come back on the forward swing.  Keeping that left shoulder back, and trying to hit the ball, is one factor that could cause poor contact.
For crisp contact, you need to feel like your left shoulder gets back on the forward swing to where it originally was at address. Give this thought a try the next time you're at the range and let me know how it works.  Not only will you improve contact with your irons, but also with your hybrid and fairway wood shots off the ground.  I know this tip will help you play better golf!      
***Real Estate Tip of the Month— Know your market and keep tabs on what's happening in your area.  In 2020 the market had started out strong and was projected to surpass all 2019 numbers?  Of course, middle of March thru now has been impacted by the Coronavirus.  Listings are starting to pick back up, but here's what happened in a nutshell to Single Family Homes in March 2020 Compared to March 2019.  Did you know???    
Alpharetta- In 2020 # of listings were down 30%, new listings were down 21%, days on the market remained almost the same 48 days, the average list price was slightly down from $459 to $456k, and the average sales price was slightly down from $449 to $443k, and there were slightly more expensive homes being listed in 2020 compared to 2019 as the medium sale price rose from $396 to $407k.
Roswell- In 2020 # of listings were up 11%, new listings were down 18%, days on the market were down by 20% from 59 days to 47 days, the average list price went down from $470 to $434k, the average sales price went down from $462 to $427k, but more less expensive homes were listed in 2020 compared to 2019 as the medium sale price decreased from $405k to $390k. 
Johns Creek- In 2020 # of listings were down 2%, new listings were down 9%, days on the market were down by 25% from 68 days to 51 days, the average list price increased from $473 to $517k, and the average sales price increased from $462 to $504k, and there were slightly more expensive homes being listed in 2020 compared to 2019 as the medium sale price rose from $407 to $448k.
Inventory was low and demand was high!  Demand is still high if not higher and inventory is lower than ever.  Now, is a great time to sell.  If you like analytics & statistics and would like to see the info I shared above in easy to read charts and graphs, please let me know.  If you'd like information on another area other than the three I mentioned, please let me know. 
March 2020
Ball Position
The clocks have sprung forward, and hopefully brighter days are ahead of us.  That means we can get back on the course and practice facility after work (unless you're retired) and start working on those New Years golf resolutions. 
Here's something that I hope will refresh many of your memories and help you to play a little better golf.  Every year I was surprised by how many of my golf students would forget where to position the golf ball, in relation to their body or stance, for different shots they were trying to execute.  Having the ball in the correct location can make your life a whole lot easier.  Each club is designed different and we want to be sure the ball is in a position where the club face comes in square at impact.    
Go big or stay at home!  Let's start with "The Driver" and its very forward ball position.  For a right-handed golfer, the ball is positioned in the instep of your left heel.  Remember the head, spine, and center of our body are set behind the ball with the driver and not over the top of it.
Without getting too picky for full swings with "Irons", the ball is positioned roughly in the center or slightly left of center of your stance for a righty.
Chipping and Green-side Bunker Shots is where everyone seems to get a little mixed up after the winter months!!!  Hopefully, this will help you remember… in "The Bunker" we want to hit the sand first and not the ball first.  Otherwise, the ball will come screaming out and fly over the green.  So, in the bunker we play the ball an inch or so forward toward the front of our stance, which gives us the best opportunity to hit the sand behind the ball.
A "Chip Shot" is a terrible shot to waste.  You want to be sure that your next shot after your chip, involves having your putter in your hands!  The ball should be positioned in the center to slightly back of center (back means right of center for a righty) in your stance.  This helps keep your shoulders square and gives you the best shot at making a solid chip.  You want to strike the ball first when chipping.
If you consistently miss your putts to the left side of the hole or to the right, you might have the ball in a bad position.  The ball should be positioned at the bottom of the arc of your "Putting" stroke.  We want the putter to come in level and not ascending or descending, to produce a good roll on the ball in the intended direction.
Strike a pose. Have a friend take a picture or video of you hitting a couple of shots and see if your ball is in a good position. You might just be surprised.  Hope these reminders help you play better golf this season. 
*** "Quick Question"???  Who do you know who wants to buy or sell a house?  I'm ready to help and a referral from you would be the greatest compliment!
February 2020
Do you really need new clubs?
How can you know if you really need new golf clubs?  What factors determine if you should keep the equipment you have or swap out for that new 2020 technology?  If you feel like you're giving your opponents an extra stroke a side, because your equipment is old, it might be time to invest in new clubs?
Golf Equipment is an investment and new golf clubs aren't cheap.  If you do decide to buy new clubs, make sure that you get fit for your new equipment.  Have a golf pro or person with experience in fitting, fit you for your new clubs.  It makes all the difference in the world and the manufacturers charge the same for the clubs whether you're fit or not.  Ill fitting equipment causes swing compensations and corrections, which lead to big swing problems down the road.  Your new clubs should make your life easier, not more difficult. 
Signs that it's time to invest in new clubs-
---when you feel you're working way too hard with the clubs you have.  Do your clubs feel too heavy and stiff, like you're swinging a telephone pole?  Might be time for some lighter more flexible shafts.
---having trouble finding the fairway off the tee with your driver.  With today's technology, you should be able to get a driver with enough loft, the correct flex shaft and the correct length to find the fairway off the tee on a pretty regular basis.    
---the club face of your favorite wedge is as smooth as a baby's bottom and you no longer can see the grooves.  The ball is releasing 15-20 feet when you use it.  You miss a lot of fat and thin wedge shots.  Time to get fit for new wedges. 
---your friends tell you that you putt like a dog or that you putt like Helen Keller(she was blind if you recall).  Might be time to get rid of that great deal you found all those years ago at that garage sale.  Doesn't it make sense that the putter would be the most expensive club in your bag since it's used for the most strokes? Treat yourself to all the bells and whistles with this purchase.  Get the larger grip, grooved face technology and face balancing! 
Golf equipment might be a good investment, but you know what else is a great investment?  Real Estate is a great investment!  Interest Rates are so low right now, that each of you should own at least two houses.  Allow the first house to work for you to pay off the second house!  A study by The National Association of Realtors says we sell our homes for new homes on an average of every 13 years.  Almost as often as we change our golf equipment.  Why?  Right-Sizing!  Our needs and lifestyles change, and we invest in property to meet those ever changing needs.  If you're thinking of Right-Sizing, please give me a call.  I'd love to hear more about your needs, and I'd love to help you!
January 2020
Happy New Year Everyone! It's that time of year when we reflect on the past year and set new goals for the upcoming year. Do you have any golf goals that you've written down for yourself for 2020? This month, for the new year, I have the BEST TIP I've ever shared with all of you. Make golf more fun and don't take yourself so seriously this year. Golf is a game and it should be fun!
Here are a few tips to make golf more fun—
1. Don't place so much emphasis on your golf score this year. Try coming to the first tee with no expectations of how you're going to play. The reality is that golf isn't easy. Our scores fluctuate with the conditions, and rarely does anyone play to their handicap. Your golf score should not control your happiness.
2. Play golf with people whose company you enjoy this year. Most likely your round of golf is taking between four to four and a half hours to play. If there's someone you play golf with that's a miserable human being on the golf course, because they pout, complain, yell, cuss, throw things, and are constantly bringing you down…don't play golf with them. Life's too short. Play golf with people you have fun being around.
3. Play golf on the pretty days this year! Your round of golf shouldn't feel like a punishment. If you're not playing golf for a living, why would you play on a day that resembles something like torture? It's okay, and many golfers have a personal weather guage that they live by to determine if it's a golf day or not. Play golf on the pretty days.
4. Become a better ball striker in 2020. Hitting better golf shots will definitely help you have more fun on the course. Just because I said you should make golf more fun this year, doesn't mean that you should accept defeat. Treat yourself to a few golf lessons if you're not happy with the way you're striking the ball. Make it your 2020 goal to have a go to shot and to eliminate the shot you dislike the most.
Follow these tips and I know that you're going to have more fun this year on the links.
December 2019
Three Off-Season Practice Tips
Depending on where you call home, this may be the off-season for your golf game. I've always thought it's good to take a little break from time to time from my golf game, when I used to work on my game year-round. Everyone needs an off-season. Here are a few Tips that will help you improve even though you may not be able to get out on the course as much as you'd like.
1.) Bring a club in the house- Set the club in a prominent location that you pass frequently. Pick up the club and grip it for 30 seconds every time you walk past the club. This will get your hands feeling comfortable, fitting together, and married to your club. There's no such thing as having too good of a grip. Practice makes permanent, so be sure you're gripping correctly.
2.) Stretching- Our golfing muscles tend to shrink and get stiff when we're not using them. We can all increase our flexibility. Pick a couple of good stretches and stick to them. Use that club you brought in the house to help you. Think about how rotational a golf swing is, and how limited your swing will be if you lose the ability to turn properly. Ask a fitness trainer that has golf swing knowledge or a golf pro for a few good stretches.
3.) Putting- When it's 40 degrees outside with a wind chill of 36 degrees (or worse), I enjoy rolling a few putts on the carpet in front of the fireplace. Hardwood flooring is a desirable flooring choice for many home buyers. However, the greens at Augusta National don't even roll quite that fast. You may want to consider investing in a putting carpet if you don't have a rug that allows the ball to roll at a good speed. My favorite putting carpet is the Accelerator.
November 2019
November's Golf Tip- More Power, Power, Power!
Power- If a picture is worth a thousand words, then this is the position you're striving for on the downswing a millisecond before impact.
"L for Lisa" - If YOU want more power to hit the golf ball far, you have to learn how to "hold on" to this angle you see between the left arm, left wrist, and club shaft longer. (Doesn't the left arm and golf club in the picture look like the letter "L"?) When we unwind our upper body too early on the downswing and try to swing the club fast with our arms and hands to hit the ball farther, we lose this angle way too early and in turn lose all of our power before we hit the golf ball.
"Holding On"- "Holding on" is the worst phrase ever. I promise you that nobody that crushes a golf ball feels like they hold on to
anything. In fact, the opposite is true. People that hit powerful golf shots do the opposite to holding on, they fire and let go. They just fire and let go at the right time, right into the back of the ball, and not too early.
Feel and Do this right NOW- Get up and pretend like you're holding a golf club. Make a slow-motion downswing, imagine you're the guy in the picture. Your right elbow is in front of your right hip and your left arm and the imaginary golf club are at a 90-degree angle (or as I like to say, make an "L" for Lisa!). Here's where you need to be able to walk and chew gum at the same time… your right shoulder is moving down, your left shoulder is moving up, your rib cage is lifting, stretching, and expanding on your left side, all while your hips are simultaneously rotating and turning to the left. (No, I'm not kidding!) This is the power move you've been waiting for. As you make this power move with your body, you're moving your arms, hands, and golf club to the golf ball (All while keeping the "L for Lisa). You're trying to fire the club, you're trying to straighten and unbend your right arm, you're trying to deliver the clubhead into the back of the ball. Your body is moving in a way that won't allow this to happen until a millisecond before impact, and that's how you maintain the angle longer. That's how you deliver more Power, Power, Power into the golf ball!
***If you want to do this, but can't…schedule a lesson with your local LPGA or PGA pro. It's too hard to do it on your own. If you think you can sell your house yourself, most likely you won't. If you want to sell your house for the most money in the shortest time…call a Realtor, preferably, this Realtor…"L" for Lisa! Questions about golf or real estate, give me a call and we can talk.
October 2019
October's Golf Tip of The Month
1.— A question came in asking, "How do I hit a shot with loft versus a punch shot?"
This player was having a problem where the ball wasn't getting up in the air like it was supposed to. The trajectory was too low. Golf clubs are stepped-out so they have 4-5 degrees of loft between one another. For example – if a PW has 45 degrees of loft, the 9-iron will have 40 degrees of loft, and the eight iron will have 35 degrees. The PW should fly higher than the 9-iron and 8-iron, because it's built with more loft. If I set the club at address with its true loft and don't change anything when I grip the club, then at impact the club should return and strike the ball roughly with that same loft. Basically, each club has its own job to do! The golf club swings in a circle and not on a straight line. As I'm making my circular swing, the club head is rotating open on the way back, squaring on the way down, and closing on the way through. Imagine the club head swinging on the arc of a protractor, opening and closing. If the club swings on too much of a straight line, it tends to get closed on the way back. If I come down on the ball with that same closed club face, the ball will fly low, because I've delofted or changed the loft of the club head. This shot looks more like a punch shot and we wanted a shot with loft! Allow the club head to open, square, and close to see a shot with the proper trajectory. The loft of the club should lift the ball in the air for you.
Now let's discuss how to hit a punch shot. We typically want to play a punch shot when we need the ball to intentionally fly low, don't need it to go too far, or need to get out of trouble from under tree limbs. First, select a lesser lofted club like a 7-iron or 5-iron. The only time I'd hit a punch with a lofted wedge or sand wedge, is if I were trying to blast out of super deep rough like you see when watching the British Open. Next, position the ball slightly back of center of your stance (right-handed golfer's back foot is your right foot). Lean the shaft toward your front leg to de-loft the clubface (right-handed golfer's front leg is your left leg). Depending on how far you're trying to go…. Perhaps start with a half sized back swing and swing down and hold your finish low after you hit the ball. Finish low and the ball will want to fly low. Hands, arms, golf club all finish belt high. Keep in mind the ball will come off the club hot and want to roll more than normal with its lower trajectory and ball flight. You'll need to plan your landing spot accordingly, with that extra roll in mind.
So, thank you to my friend who asked for help with wanting to see higher lofted shots, and was hitting too low of shots that look more like punches. Remember to position the ball in the proper location to allow the club to have its true loft (not too far back). Then be sure to allow the club to move in a way while you're swinging where the club returns with loft at impact. Swing more in a circle allowing the club to open, square, and close. Thank you again for your question. I hope this tip will help you and someone else reading.
2.—There was a second question last month requesting an explanation of the Rules for what are the relief (Dropping) options for a lateral water hazard, when you can't find the ball, but have a pretty good idea where it went in? Rule 17 in the USGA Rules of Golf book describe your options for Penalty Areas. Every four years there are some adjustments to the Rules to make them more clear, easier to interpret, remove ambiguity, and to speed up play. 2019 was a big year for changes to the Rules of Golf. There is no such thing any longer as a lateral water hazard (Red Stakes). Have you ever played a course that has practically every fairway lined with red paint, but there's no water in sight? This is an attempt to speed up play and keep you from hunting for lost golf balls! Now, we have Penalty Areas. There's a Red
Penalty area and a Yellow Penalty area. The Red Penalty area replaces what used to be the Lateral Water Hazard. It's still marked red, with red stakes identifying and red lines defining the Red Penalty area. Any part of your ball touching the red line means you are deemed to be in the Red Penalty area. The rules say that you must have knowledge (see the ball in the penalty area) or have virtual certainty (you and your playing partners agree & saw it go in but don't actually see it any longer) for the ball to be said to be in the Penalty area. If you hit your ball in the area of the penalty area, it racked around for a while in the branches of a tree, it could be anywhere and you don't know (in the rough, out of bounds, in the penalty area???), that's called a Lost ball and Stroke and Distance is your penalty. However, if it's in the penalty and all agree here are your options:
a. Play it from the penalty area with no penalty
b. Take a one stroke penalty and play from the place you just hit from before it went in the penalty area (stroke and distance relief)
c. Take a one stroke penalty and from the location the ball last crossed the red line of the penalty area, take two clubs of relief, no closer to the hole, and drop the ball
d. Take a one stroke penalty and from the location the ball last crossed the red line of the penalty area, keep that point between you and the hole, go as far back on that line as you wish and drop the ball
***The old Lateral Water Hazard Rule had a relief option of going on the opposite side of the hazard, equidistant to the hole, and that option is gone and no longer exists.
P.S.- Don't forget the 2019 Rules changes now have us taking our drop from knee high. If this is all a news flash to you and you play golf, you may want to freshen up on your rules, or just have fun and don't care. Depends on your friends and who you play with, right? Wink! Wink!
September 2019
PACE OF PLAY
Here are a few tips to help you play golf at a better pace. Here's the first hint: Slow players never think they are slow! Why? I don't know why, I'm not a Psychiatrist, that's just the way it is!
Tips—Tick Tock, Tick Tock, Tick Tock (that's the sound of the clock ticking)
What to Do:
1.) Be ready when it's your turn to tee off! Get out of the cart, grab your club of choice, be on the tee, have your glove on, and your ball and tee in hand.
2.) Play ready golf. Unless you're playing in the US Open, if you're to your ball and ready, and not putting yourself in danger, go ahead and play your shot.
3.) If you're playing in a cart…Once you get to the first person to play's ball, grab two or three clubs and the sand bottle and walk a few steps to your ball and decide your game plan while the first person is playing their shot.
4.) Drive the cart to the far side of the putting green closest to the next tee. That way when you exit the green you take off and the people in the fairway can play and don't have to stand around waiting for you.
5.) Record your score on the next tee. Don't sit at the green discussing scores while people are waiting to play.
6.) If your friend just bladed one out of the bunker over the green and you're already on the green, offer to rake the bunker, so they can go play their next shot and keep things moving. Be mindful and helpful.
7.) Do you know how much the pin weighs? Maybe you should try picking it up once and placing it back in the hole and then you'd know how much it weighs! (that's kind of a joke - but not really a joke – just think about it for a minute) First person in the hole grabs the pin and places it in the cup after the last person putts out.
What Not to Do:
Anything that's the opposite of #'s 1 – 7 Above!
August 2019
Visualization
I Googled the word Visualization and here's what I found. Visualization is defined as any technique for creating images, diagrams, or animations to communicate a message. Visual imagery has been an effective way to communicate both abstract and concrete ideas since the dawn of humanity. So, now that we know what it is, why should we incorporate it into our golf games?
We all know that golf is a mentally challenging game or sport. It requires focus and concentration to be successful at any level. However, when we focus our attention on the wrong things, like self-instruction, ourselves, results and outcomes, that focus causes tension. Tension will sabotage us every time.
That's where visualization comes in to play. Visualization is a great relaxation technique. You need to have a plan for every shot. You need to have something positive to focus and concentrate on that's not going to create negative tension.
How do I Visualize a golf shot? To visualize your shot simply say to yourself where you want your ball to fly in the air from point "A" to point "B", and then once it lands at point "B", where you see it rolling and ending up next to the hole.
Now, you have a plan! You're concentrating on something positive, and using a technique that helps you relax. Incorporating Visualization into your game, will surely help you make better swings and shoot lower scores.
July 2019
July's Golf Tip of the Month
"Putting Games…Improve and Have Fun"
You know that you need to improve your putting and that it's not where it needs to be. At the same time, you think there's nothing more boring than standing on the putting green rolling putts, when you just want to be out on the course playing with your friends! The problem is that you're making your putting practice feel too much like work and not enough like play. Find your childlike enthusiasm!
Here are a few games that you can play with friends and some you can do alone that will allow you to stay out and practice a while, without it feeling too painful!
1.) HORSE—remember when you were a kid at the neighbors' driveway b-ball goal, and you'd play "HORSE"? You play the same game on the putting green with one or more friends. Whoever is the first to spell HORSE, loses!
2.) 21 – this is a points game and you can play with one or two friends. Pick two holes and you'll go back and forth to the same two holes the entire time. The first to reach 21 wins. You get 3 pts. for a make, 2 pts. If you lip out and two putt, 1 pt. for a two putt, 0 pts. for a three putt. In order to win you must hit 21 pts. even.
3.) GATE CRASHER – Okay, here's one you can play alone or with a friend. Find a straight putt that's 8-10 ft. long. Put two ball markers out about half-way to the hole, with just enough room for the ball to roll between them. You're trying to get the ball to roll thru the gate & to go in the hole. If you're playing with a friend, play pts. Give yourself a half pt. if you get thru the gate and a whole pt. if you get thru the gate and make the putt.
4.) 7UP – This is a game for two players. Decide who goes first. Both putt. Whoever is away putts. If they make they get "no pts.", if they miss, they lose 1 pt. Now the person closest putts. If they make they get 1 pt. and if they miss they get "no pts." Whoever wins gets to pick the next hole. If either of you makes your first putt, you get 2 pts. The first player to 7 pts. Wins!
Hope you'll enjoy playing these fun putting games and who knows you just might improve your putting!
Next Months Tip is on Visualization. How you can you do it if you can't see it, first?
June 2019
June's Golf Tip of the Month
"Shot Selection…The 7 Out of 10 Rule"
You're playing a round of golf with your friends and it's your turn to play. Your 125 yards from the green in the middle of the fairway and there's a giant oak tree 50 yards in front of your ball. You find yourself at a crossroad. Which shot should you play? If you could get your shot up quick enough you could go up and over the tree. If you could draw the ball, you could start the ball out to the right and curve it around the tree, and vice versa if you could fade the ball. Then again, the branches of the tree aren't hanging that low, and you could play a low shot under the tree to the green. It's decision time! What to do, what to do, your friends are waiting for you to "Hit the Ball, Already"!
In any scenario during a round of golf when you come to that crossroad, ask yourself which of your many choices do you feel most confident? Which shot do you feel that you could get the ball closest to the hole 7 out of 10 times? You will always have one shot that feels the best. That's the shot you should chose to play!
So, let's say you've been struggling with your chipping and you just came to me for a chipping lesson. Now you're at a crossroad on the course during a round of golf where your ball is just off the green, but your 40 feet from the hole. Should you chip the ball or putt the ball? The little devil resting on your right shoulder whispers in your ear that Lisa would tell you to chip the ball from here, and you just paid for a chipping lesson. However, the little devil on your left shoulder is whispering in your ear that you should putt the ball, because you're probably going to chip the ball over the green and into the water hazard. Which shot should you play? I think the answer is obvious. At this point in your golf career you're probably going to putt the ball closer to the hole 7 out of 10 times than chipping. Go with the putt!
The "7 out of 10 Rule" is an easy golf tip to remember and take with you out on the golf course. Think about it during your next round of golf! I know that making better shot selections and playing your greatest percentage shot will certainly help you lower your score.
May 2019
May's Golf Tip of the Month
"Increase the Number of Greens You're Hitting in Regulation"
How many greens are you hitting in regulation? Do you ever track your number of greens? It's an interesting statistic. Hitting more greens will certainly lower your score.
Here are FIVE quick ways to hit more greens in Regulation--
1. Playing from the Correct Tees- For several years there's been a huge initiative to get golfers to "Play it Forward". That means playing from the tee markers which allow you to get to the green in regulation. Golf is much more fun when you have a chance to putt for a birdie or par. It's a lot easier and more fun hitting irons into greens than fairway woods.
***Legendary Golfer Sam Snead was criticized in his late years of his life for playing golf from the "Short" Tees, his response was it's no fun putting for bogey!
2. Distance- Increasing the distance you're driving the ball will help you hit more greens in regulation. If you're not hitting the driver well, you'll have longer approach shots into the green. Leaving yourself with long hybrids or fairway woods for your second shot is not going to help you hit as many greens.
***When you drive longer and putt well, you usually score pretty well, this is a fact. Some players that come to mind are Rory McElroy, Dustin Johnson, & Ricky Fowler.
3. Accuracy- Hitting more fairways in regulation off the tee will have a big impact on the number of greens you hit in regulation. It's no secret that it's easier to play from the short grass in the fairway than from the rough or a fairway bunker.
***Jim Furyk's not the longest driver of the ball and has a very unorthodox golf swing, but his consistent driving accuracy has earned him over $70 Million in Career Earnings on the PGA Tour.
4. Club Selection- Knowing how far you carry your golf ball in the air with your clubs is a very powerful piece of the pie in lowering your score. If you look at the green and "think" you can get your eight iron to the green, but come up 15 yards short, you're now adding an extra stroke to your score. If you had selected your six iron, you would have been on the green and putting.
***Figure out your carry distance by looking for your fresh ball mark on the green from your approach. For ex.- If your distance was 140 yds. to the pin and your ball mark was five paces short, you can assume you carried the ball 135 yds. in the air with that club. Take notes and learn your distances. Most golfers average 5-10 yds. difference between clubs.
5. Target- The "Pin" on the green should rarely be your target. The middle of the green should be your target! Do you want to hit the green or not? Unless, you're hitting 12+ greens in regulation, and you know how far you carry your ball, and have some pretty good control of your ball flight, don't go for the Pin.
***Picking a "Safe Target"! Pick a target so if the ball goes to the target, you're safe, miss a little to the right you're safe, and/or miss a little to the left you're still safe. This will help you hit more greens in regulation.
Golf is a very challenging game at every level. It's supposed to be fun. Some people go out and enjoy the outdoors, the beauty of the course, and socializing with their friends and family. Others play golf professionally, as their career. No matter your personal reason for playing golf, follow the tips above and you will lower your score. If you're doing it already, good for you. Those of you struggling, give it a try and I know you'll begin to hit more greens in regulation and lower your score.
April 2019
April's Golf Tip
"How to Hit It Farther"
April is delivering…What a great couple of weeks of Golf we were just able to enjoy. It began with the great play of the 72 young women that competed in the Inaugural Augusta National Women's Am, followed by the determination of the young Juniors in the Finals of the Drive, Chip, and Putt Competition, and then Tiger's resurrection from Rock Bottom to a 5th Green Jacket. I never thought I'd see that one! That being said, let's get to April's tip for "How to Hit It Farther"!
This should be the easiest tip ever! It's as simple as the equation Mass x's Velocity Squared = Distance, right?
Many of us are physically capable of swinging our clubs faster, but faster doesn't always create longer or straighter golf shots. In fact, many times we try swinging the club harder and faster and strike the ball more off center.
The best way for most amateurs to hit the ball farther and straighter, is to hit the ball more on the sweet spot or closer to the center of the clubface. There's something called face tape that you can put on the face of your club to show you where you're hitting the ball. This can be purchased, or you can ask for a couple of pieces in the golf shop at your club. If you see something that resembles chicken pox as opposed to one steady consistent spot on your face tape, here's a tip for you!
Take out your driver and set the head on the ground like you're about to hit a shot. Place a tee in front of the toe, and then place a second tee behind the heel of your driver. If you can swing your driver and hit the ball without hitting the tees, you've just hit a shot in the center of the club face. If you hit the tee behind the heel, you've just hit the ball off the toe of your driver. If you hit the tee in front of the toe, you've just hit the ball off the heel of your driver.
Practice this tip and I promise you'll start to hit the ball farther.
March 2019
PLAYING UNEVEN LIES
(ON COURSE)
A. Uphill- Play the ball more off the high foot on the hill (closer to your front foot). Gravity will be trying to pull you down the hill and you want to balance yourself on the low foot on the hill. Position your shoulders so that they parallel the slope. Swing with the slope. The ball will go higher and sometimes want to curve a little left, so you may need to use more club than normal.
B. Downhill- Play the ball more off the high foot on the hill (closer to your back foot). Gravity will be trying to pull you down the hill and you want to balance yourself on the low foot on the hill. Position your shoulders so that they parallel the slope. Swing with the slope. Chase the ball and club down the hill, trusting the loft of the club to get the ball in the air. The ball will go lower than normal and you may need to use a more lofted club, even if you are 200 yds. or more from the green. (on a severe downhill lie a 9-iron could go farther than a 4-iron.)
C. Ball above your feet- the loft is looking left and you will need to compensate with your alignment and aim yourself more to the right. May want to set-up with spine a little more upright and swing more around your spine like a baseball swing when ball is way above feet.
D. Ball below your feet- the loft is looking right and you will need to compensate with your alignment and aim yourself more to the left. May need to bend down more, bend knees more, and really stay down to hit ball below your feet.
February 2019
February's Golf Tip
"Bunker Saves – Getting it Up & Down"
Bunker shots are the nemesis of many Amateur golfers. Why do we psych ourselves out before ever stepping foot in the bunker? The greenside bunker shot is one of the most forgiving shots in golf, and you don't even need to hit the ball to be successful. So, why do so many golfers find this shot to be terrifying? Let's try to approach our bunker play with a positive attitude for starters. Of course, there's nothing that builds confidence like a little success!
Below are a few tips to help improve your bunker play:
First, let's lower your standards. If you're struggling in the bunker, then your main objective is to get the ball out of the bunker, and then hopefully on the green. Comparing ourselves to the pro's on television can be demoralizing, because they appear to almost hole-out every bunker shot they hit. That's why they're called professionals, they are the best at their trade.
Next, your stance and swing are different in the bunker than hitting a shot off the turf. This may be the most important area in helping you become more successful with your bunker play. Set your feet shoulder width apart and work your feet down in the sand a bit to lower your center of gravity. Aim your feet, knees, hips, and shoulders a little to the left of your target if you're a right-handed golfer. Open your clubface only a slight amount like 2-3 degrees to expose the gliding action of the sole of the club and to add a little loft. You're going to impact the sand about an inch or two behind the ball and not going to strike the ball at all, so you'll need to make a ¾ length swing in order to have enough force to get out. Swing in the direction your body is aligned and not in the direction the clubface is looking! You may need to re-read this paragraph, and break it down, but it is that important. Be sure to do it.
The divot you take in the bunker should be roughly the size of a dollar bill, and it should be more shallow than deep and gouging. Imagine a one-dollar bill positioned with the back of the dollar in the center of your stance and the front of the dollar toward your front foot. The ball would be positioned in the center of the bill, on top of the father of our country. In other words, the golf ball is positioned slightly forward of the center of our stance.
Once you get your stance properly set, and make your ¾ length backswing, I'm not sure if this last tidbit is the most important or just equally as important as the set-up? Be sure to make a full follow through! Too often, the motion stops down in the sand. The ball remains in the bunker and never makes it out. Remember, our main objective is to get the ball out of the bunker, and you must follow through in order to make this a reality. So, keep your body rotating, keep your shoulders and hips turning, and follow through to a full finish. Feel as though your swing could carry the sand out of the bunker and all the way onto the green when you swing down and through. Finish-Finish-Finish!
Follow these tips and you'll soon be on the path to lower scores! Please don't forget, it's nice to share. Feel free to pass this on to a friend. If you have any golf or real estate questions pick up the phone and give me a call, shoot me a text, or send me an email. I want to be your favorite Golf Pro/Realtor.
Feel free to send requests for future tips. We've had a tip request for hitting shots from uneven lies.
Hope you enjoyed,
Lisa
Next month's article/tip will be on Mastering shots from "Uneven Lies"!
January 2019
January's Golf Tip
"The Cure for being Consistently Inconsistent!"
Army Golf? Left/Right, Left/Right, Left/Right! Try playing a round of golf where you feel the ball might go anywhere, it's not very fun. What does your ball flight pattern look like? Does the ball for the most part do something consistent and on occasion has a similar miss? Bravo, that's what we're going for!
Even low handicap golfers get sloppy and struggle with consistency from time to time. We overlook the little things that make the big differences. If you're consistently inconsistent, here's a tip for YOU! Think of the acronym P.G.A.— like the tour. Posture – Grip – Aim!
Starting with AIM, because everything begins with your target and then works back to you. Is your clubface really aimed at your target? Can you sole your club on the ground with the face square (toe and heel in line), with the true loft as the manufacturer intended? A couple of degrees off at address could be 15, 20, or more yards off line, say 150 yards down the fairway.
GRIP the club in a neutral position and go from there. (Rt. Hand golfers- Left thumb slightly on top and to the right of center. You should see one or two knuckles when you look down at the back of your left hand. If your left thumb is straight down the shaft and you can't see knuckles, you have what is referred to as a weak grip, producing weak shots to the right. Next, place your right hand so that it fits on the side of the grip and on the side of your left thumb, palms facing one another. Grip pressure medium, not too loose, not too tight.) Place your hands on the club in a consistent manner each time. Practice gripping the club until it's second nature. There is no such thing as having too good of a grip!
Have your POSTURE resemble the posture of a favorite tour player. Start from the ground with your feet set shoulder width apart, slight bend from the hips, and slight flex in the knees. Have your feet, knees, hips, and shoulders all parallel to one another. Feel athletic and stay in balance as you swing, and at the finish of your swing.
Aim the club a similar way each time, Grip the club in a similar way each time, and set your Posture to the club in a similar way each time. Consistency in setting up is the key to having a ball flight that repeats.
Let's make 2019 a great year! Follow these tips. You'll soon be on the path to more consistency and shooting lower scores! Please don't forget, it's nice to share. Feel free to pass this on to a friend. If you've ever thought to refer me as a teacher and golf professional to a friend, I hope you'll refer me as a Realtor to a friend. A referral from you is the greatest compliment! Call the Vanessa Creech Team. Let's talk. I want to be your favorite Golf Pro/Realtor.
Hope you enjoyed,
Lisa
Next month's article/tip- "Bunker Saves"
December 2018
December's Golf Tip
"You're Only a Chip Shot Away from a Lower Score"
There's a good chance that you're taking a fair share of chip shots throughout a round of golf. How you're chipping on any given day can have a major impact on your score. There's nothing more frustrating than standing over a little chip and watching it skid out of control and roll over the green. Here are your chipping tips:
1.- Open Clubface versus Square Clubface?
Square, square, square! Any time you open the face you add loft. A chip shot is a minimum air maximum roll shot. The square clubface will promote more roll. Also, the open clubface is looking off to the right of your target from a directional standpoint. You want your chip to roll straight to your target, so that it either goes in the hole or gets as close as possible, don't you?
2.- Open Stance or Square Stance?
I don't honestly care if your feet, knees, and hips (Stance) are set a little open to your target or square to the target. Open Shoulder Alignment caused by shoulders that love to follow feet is much more concerning to me. If you do set-up to chip with a slightly open stance be careful that your shoulders stay square and don't follow your feet. Shoulder Check-up -- lay a club or alignment stick on the ground pointed to your target. Now, take a club and place it under your chin across the front of your two shoulders. The club across your shoulders should be parallel to the club on the ground if your shoulders are square!
3.- I already have plenty of roll (Ball skidding out of control and rolling over the green) / I need help to find a little lift or air!
The loft of the clubface descending in the chipping motion gives us the little hop or air time that we seek. Set-up with more weight on the front foot (the foot closest to the hole or flag) and slightly more forward lean of the club shaft than normal. Have the grip of your club lean to the middle of the thigh of your front leg. You're now set-up for the club to descend. Keep your weight quiet and balanced on your front leg while making a rhythmic pendulum like chipping motion with your arms and shoulders. Unless you do something to disrupt the swing, the club will want to descend. The club descending will lift your ball.
Follow these tips and I know you'll be on your way to shooting lower scores! Please don't forget, it's nice to share. Feel free to pass this on to a friend and remember… You need help buying or selling a house? Call the Vanessa Creech Team. You need help with your golf game? Call the Vanessa Creech Team. Let's talk. I want to be your favorite Golf Pro/Realtor.
Hope you enjoyed,
Lisa
Next month's article/tip- "The Cure for being Consistently Inconsistent!"
November 2018
***This is the first in a series of monthly golf articles/tips for our friends and clients to help you play better golf. That being said, the first tip had to be a putting tip. Let's get to it!
Golf Tip
"Never Up Never In"
You've probably been told by your friends while playing golf at some point, that you need to hit it past the hole, give it a chance, you can't make it if you don't hit it. Sure, that's true to a degree. However, isn't the object of the game to get around the course in as few strokes as possible?
"Never Up Never In" is a commonly used golf cliché that fellow golfers tell someone who tends to leave putts short. If you or someone you know constantly leaves putts short, it's most likely due to a fear of hitting your putts too long.
Playing with fear is not a very fun way to play golf. Focusing on leaving putts short or long is focusing on the outcome, which you can't really control. Fear of the outcome is caused by a lack of confidence. How can I become a more confident putter? Wait for it, PRACTICE! Oh no…..not the "P" word. Don't panic, keep reading. This won't hurt.
The solution to your putting woes isn't likely to be resolved by ramming or charging your putts at the hole, hence if you don't leave it short, nobody can say "Never Up Never In". However, now you left yourself a 6-footer for your come back putt. When someone has a three putt, I ask them what putt do you think cost you that three-putt? Well, I missed my second putt and had a three-putt. Was the length of your second putt a distance that would give you a high percentage of makes? Probably not if you're living by "Never Up Never In", ramming your first putt, and trying to save 6-footers all day. No wonder you're lacking in confidence. The real problem was the distance you were away after your first putt!
***Tip Time—Let's get that first putt closer! Become the master of three putts…the 15-footer, the 25-footer, and the 35-footer. Pick a spot on the green 15-feet away to putt to, and it doesn't have to be a hole. If one good size step is three feet or a yard, then first take five good steps from your target. Put down a coin, marker, or tee to keep your distance. Figure out what length and speed of stroke it takes to roll a solid putt 15 feet.
Next, take about eight good steps from your target to practice some putts roughly 25 feet. Figure out what length and speed of stroke it takes to roll a solid putt 25 feet.
Lastly, take about twelve good steps from your mark to practice putts roughly 35 feet from your target. Figure out what length and speed of stroke it takes to roll a solid putt 35 feet. Hit enough putts to each distance until you feel you have it. Should take 10-15 minutes tops.
Golf clichés, in my opinion, have hurt more golfers than they've helped. Become the master of these three putts and focus on making good solid rolls. Spend a little time practicing to gain confidence, and keep in mind that the best golfers in the world only make around 40% from 9 feet. Why do you think you should make 50% or more? Get that first putt closer, whether it's short, long, left, or right. Work on those 15, 25, & 35 footers. It takes a little time and practice, but you can do it, because you want to improve your putting. I guarantee you'll shave strokes off your score!
NOW, You need help buying or selling a house? Call the Vanessa Creech Team. You need help with your golf game? Call the Vanessa Creech Team. Let's talk. I want to be your favorite Golf Pro/Realtor.
Hope you enjoyed,
Lisa
Next month's article/tip- "You're only a chip shot away from a lower score!"